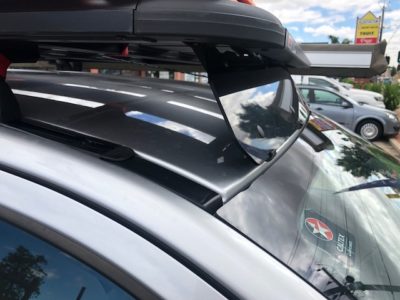 Rhino-Rack 43251 Pioneer Wind Fairing – 1332mm / 52″
$203.00
or 4 fortnightly payments of $50.75 with
More info
The Rhino-Rack Pioneer Wind Fairing has been engineered to reduce the wind noise as it deflects the air around your load which keeps it quiet whilst driving. We've also styled this product so that it enhances the sleek design of your vehicle and roof racks. The Rhino-Rack Pioneer Wind Fairing is compatible with our Rhino-Rack Pioneer Systems making it easy to install or remove if necessary.
Description
Additional information
Reviews (0)
Specifications
FITTING INSTRUCTIONS
Description
Not compatible with new Generation 5 Pioneer Platforms.
Designed specifically for Pioneer systems
Sawtooth pattern disrupts airflow to reduce wind noise and resonance
Improves fuel efficiency
Adjustable angular movement to conform to most vehicle's roof line
Adjustable longitudinal movement
UV resistant, sturdy 4mm thick ABS construction
Soft Santoprene rubber feet
3M clear plastic patches included to protect your vehicle's paintwork
Does not interfere with the usable space on your Pioneer system
Compatible with 1426mm wide Pioneer systems 41104 , 45104B, 45108B, 45111B, 42111B, 42112B, 42104B, 42108B
1332mm / 52″ in length
Easy to install/remove
Stylish design
5 year warranty
Please note this Wind Fairing suits 1426mm wide Pioneer systems.
Fits Bar: Thule Wingbar (Blade)
Fits Bar: Thule Aero
Fits Bar: Vortex
Warranty: 5 Years
Fits Bar: Rola Heavy Duty
Fits Bar: Prorack P
Fits Bar: Hubco
Fits Bar: Thule
Fits Bar: Mont Blanc (square bar)
Fits Accessory: Steel Mesh Platform
Fits Accessory: List parts that will need fitting kits
Fits Bar: Euro
Fits Accessory: AT Trays
Fits Bar: Thule square bar
Fits Accessory: S512 Folding J Style Kayak Carrier
Fits Accessory: Roof Boxes
Fits Accessory: 566 Ski & Snowboard Carriers
Fits Accessory: Nautic 581
Fits Accessory: Nautic 571
Fits Accessory: 564 Ski & Snowboard Carriers
Fits Accessory: S512X Extension Piece
Fits Bar: Rola Sports bars
Dimensions: 1332
Fits Bar: Heavy Duty
Fits Accessory: 560 Kayak & Canoe Carrier
Fits Bar: Yakima
Fits Accessory: Nautic 580
Fits Accessory: Steel Mesh Basket
Fits Accessory: S400 Kayak & Canoe Carrier
Fits Bar: Prorack Whispbar
Fits Bar: Prorack Whispbar HD
Fits Accessory: List Accessories
Fits Accessory: 562 Ski & Snowboard Carriers
Fits Accessory: Nautic 570
Fits Accessory: S510 Fixed J Style Kayak Carrier
Fits Bar: Carac
Dimensions: 150