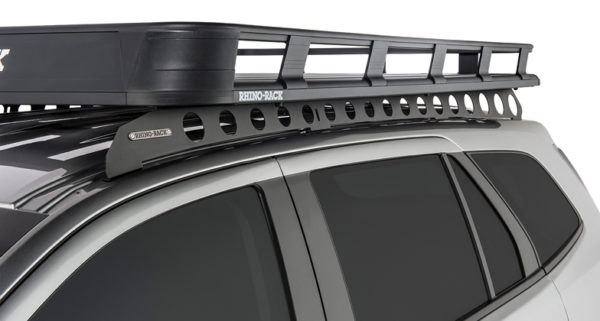 Ford Everest 3rd Gen 4dr With Flush Rails 10/15on Pioneer Tray with Backbone (1928mm x 1236mm)
$1,749.00
or 4 fortnightly payments of $424.75 with
More info
The Pioneer Tray with Rhino-Rack Backbone System is perfect for transporting extra gear on your vehicle. Sporting a stylish aerodynamic design and sleek black finish, it's not only a functional addition to your vehicle, but a fashionable one too.
**Complimentary pair of
Maxtrax Brackets
and 4 pins to carry your Maxtrax II valued at $144 with this product**
Description
Additional information
Reviews (0)
Specifications
FITTING INSTRUCTIONS
Description
The Pioneer Tray is built with tough-as-nails reinforced nylon and aluminium. We've tested this product through the harshest international conditions and it has passed without damage, colour fading or rust. The fully-welded rail makes loading and unloading your gear easier with hand grip and tie-down points. You can relax knowing that your equipment is safe on the road.
Campers and adventurers will love the Pioneer Tray's compatibility with the Rhino-Rack Jerry Can holder, Luggage Bag, Spare Wheel Holder or Foxwing Awning
Workmen can add the shovel and high lifting bracket, conduit clamps, Rhino-Rack ladder, or Pioneer Combination Bracket to name just a few accessories.
You won't leave any of your important gear at home with the Rhino-Rack Pioneer Platform. And when you decide it's time head home then get on the road faster. Whether you're heading to the coast for a weekend, going off-road towards Cape York or looking for a way to transport more of your work gear around town – the Pioneer Tray is the transport solution for every situation.
Features:
Stylish and aerodynamically designed to minimise wind drag and noise on the road
Non corrosive so it won't rust or fade
Made from strong and durable materials
Allows maximum carrying capacity
Multiple tie-down points for your load
Hand grip points for ease of loading
Includes a fully-welded and closed rail for extra strength
Bars included with the Pioneer Tray
Compatible with many Rhino-Rack accessories
Suitable for extreme off-road use
Tested to international conditions
5 years warrranty
Components:
1x 41102B Pioneer Tray (1928mm x 1236mm)
1x RFEB1 Backbone Mounting sytem for Ford Everest
Existing factory fitted rails need removing, this is done by loosening the interior head lining. The backbone is then fixed into the existing holes, all bolts and nuts included for install.
Approx labour time to install is 4-5 hours.
Pioneer Systems: Tray
Internal Dimensions: 1800
Pioneer Systems: Tradie
Pioneer Systems: Platform
# Of Planks: 4
Cross Bars Inc: Included
Warranty: 5 Years
External Dimensions: 1928
Pioneer Systems: Tray
# Of Bars: 3
Internal Dimensions: 1140
External Dimensions: 1236
Internal Dimensions: 115
External Dimensions: 135
Static Load Rating: 360kg